GUARANTEED PRICE IN WRITING
Moving.
Junk Hauling! We Do It All!
Get A No-Obligation Quote Today!
24/7 Customer Service Available
Full Service Junk Removal & Moving Service
Not only does Take It Away Today specialize in all of your junk removal needs, we also offers full-service moving solutions to make your next move as simple as possible!
Junk Removal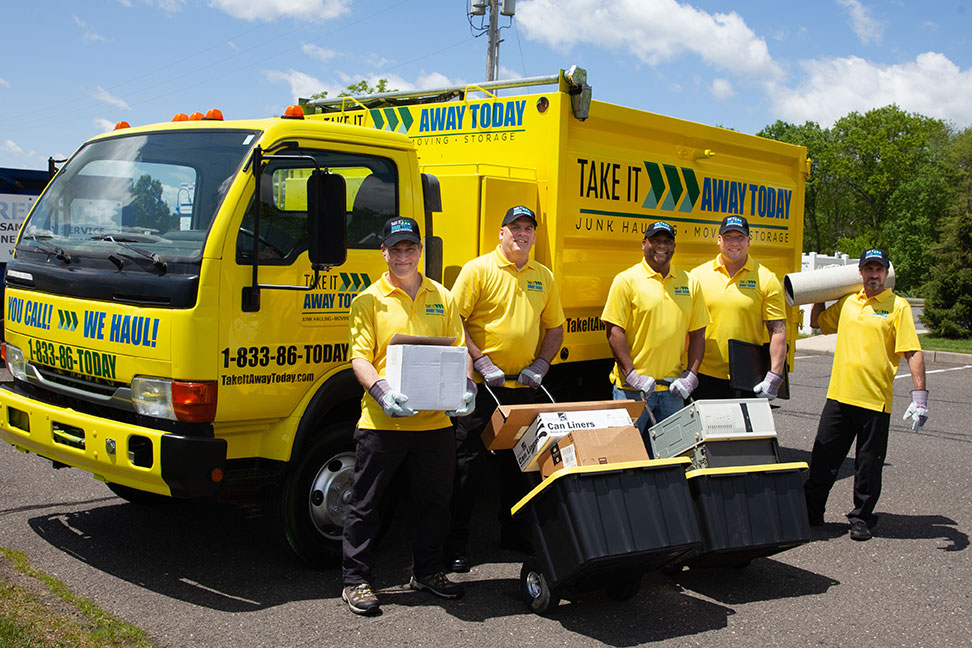 Take It Away Today junk hauling removal experts help you remove anything you no longer want from your home or business. Simply point your magic finger and it will disappear, with our help, of course. Plus, when we are done your space will be broom clean. No more dragging to the curb. You call us. You agree to a price. We do the rest. Call Take It Away Today!
Moving Services
Moving to a new home? Need your belongings packed and brought to a storage unit?  We offer full-service moving solutions to accomplish your local move. We will meticulously review the exact specifications of your move, and provide all materials needed. Our dedicated Move Specialists will show up at your home promptly with a smile on their faces! We're your trusted local moving experts!
Why We're Different
Licensed for 10 years, Take It Away Today is a full-service junk removal company servicing the 13 county region of Central and North Jersey. Our number 1 mission is to ensure you know our Guaranteed Price over the phone, well before we ever step foot in your driveway.
The countless stories we have encountered from customers wary of prices switching when they went to use their hard-earned dollars to pay the bill is not acceptable to us. We have highly-trained service representatives who will thoroughly go over the items you list, or the pictures you send to us, to ensure we get you the right price. And if we are wrong, we still GUARANTEE OUR PRICE.
Take It Away Today specializes in home cleanouts, apartment cleanouts, shed demolition and removal, hot tub demolition and removal, attic cleanouts, furniture cleanouts, estate cleanouts, garage cleanouts, pool demolition and removal, as well as much more. Our staff will show up with a smile, review with you what you listed or sent to us, and get to work to remove whatever you need.
Same Day Hassle-Free Junk Removal Service in Freehold Township, Toms River, Edison, Newark and Jersey City, NJ
At Take it Away Today, our New Jersey junk and rubbish removal service provides the perfect solution for anyone who needs to get rid of their clutter quickly and efficiently. We are a professional junk removal company that takes pride in our work and strives to provide our customers with the highest quality of service. We perform comprehensive rubbish and trash removal, leaving your home clean and clutter-free, and provide a wide range of services, from single item pickups to full-scale cleanouts. We pick up junk of any size, providing a stress and hassle-free experience from start to finish. Book now by calling our team at (833) 864-8863.
How does a junk removal service work?
A junk hauling service will come to your home or business, assess the amount of junk that needs to be removed, and then provide a quote for removal. They will then send junk haulers to collect the junk, dispose of it properly, and clean up the area when they are done.
Why hire a junk removal service?
Hiring a junk pick up service is a great way to save time, energy and the expense of equipment rental. It can also help to keep your home or office clean, organized, and free of clutter. A professional team can quickly and safely haul away old furniture, appliances, and other unwanted items, while also providing disposal services, ensuring your junk is disposed of responsibly.
What to consider before hiring a junk removal service?
Look for a service with experience, good reviews, and proper licenses and insurance. You should ask about their rates, services offered, and availability, and confirm that they have the necessary tools and staff to get the job done quickly and safely.
See What your neighbors are saying about us