Moving.
Junk Hauling! We Do It All!
Get A No-Obligation Quote Today!
24/7 Customer Service Available
Full Service Junk Removal & Moving Service
Not only does Take It Away Today specialize in all of your junk removal needs, we also offers full-service moving solutions to make your next move as simple as possible!
Junk Removal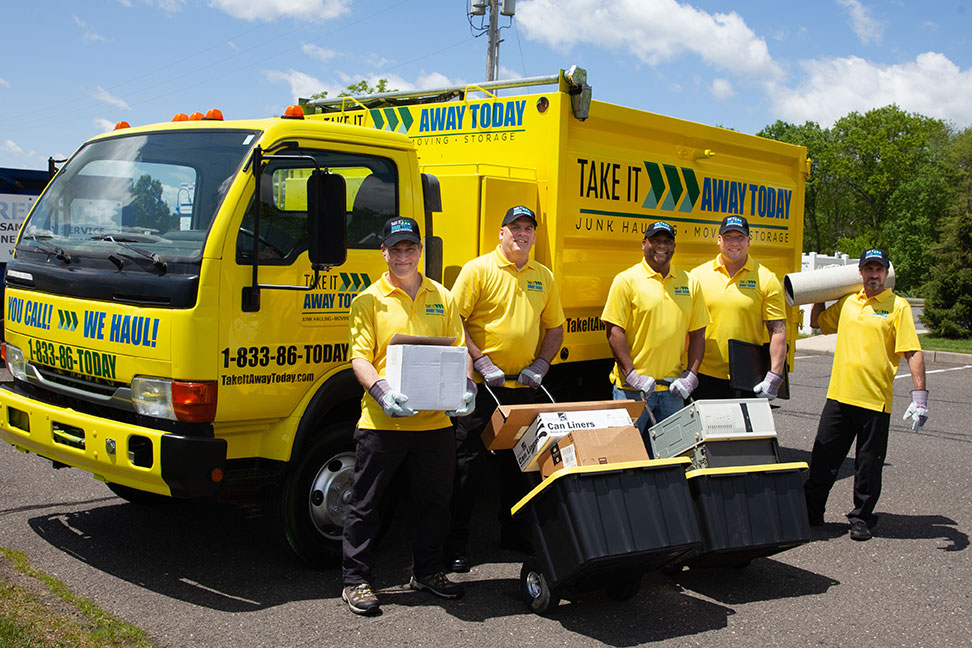 Take It Away Today junk hauling removal experts help you remove anything you no longer want from your home or business. Simply point your magic finger and it will disappear, with our help, of course. Plus, when we are done your space will be broom clean. No more dragging to the curb. You call us. You agree to a price. We do the rest. Call Take It Away Today!
Moving Services
Moving to a new home? Need your belongings packed and brought to a storage unit?  We offer full-service moving solutions to accomplish your local move. We will meticulously review the exact specifications of your move, and provide all materials needed. Our dedicated Move Specialists will show up at your home promptly with a smile on their faces! We're your trusted local moving experts!
Why We're Different
Licensed for 10 years, Take It Away Today is a full-service junk removal company servicing the 13 county region of Central and North Jersey. Our number 1 mission is to ensure you know our Guaranteed Price over the phone, well before we ever step foot in your driveway.
The countless stories we have encountered from customers wary of prices switching when they went to use their hard-earned dollars to pay the bill is not acceptable to us. We have highly-trained service representatives who will thoroughly go over the items you list, or the pictures you send to us, to ensure we get you the right price. And if we are wrong, we still GUARANTEE OUR PRICE.
Take It Away Today specializes in home cleanouts, apartment cleanouts, shed demolition and removal, hot tub demolition and removal, attic cleanouts, furniture cleanouts, estate cleanouts, garage cleanouts, pool demolition and removal, as well as much more. Our staff will show up with a smile, review with you what you listed or sent to us, and get to work to remove whatever you need.
See What your neighbors are saying about us